Sheds in Perth from Superior Sheds
See why Superior Sheds has the largest, highest quality shed range in all of Western Australia
Custom Sheds Perth: Superior Sheds
Superior Sheds draws upon our more than ten years' industry experience to provide agricultural, commercial, industrial and residential clients with the very best sheds for sale in Western Australia. We've supplied sheds Australia wide and our reputation is your guarantee of quality, cost-effectiveness, and outstanding value for money.
Industry Leading Shed Builders
We're not known as industry leading shed builders without good reason – we supply a huge range of shed styles, our prices are highly competitive, we work with other industry leaders to provide complete services for clients, and we always go above and beyond the call of duty to ensure that all our clients' needs are met at all times.
Whatever your requirements and the budget that you have to work with, our high-quality, Western Australian manufactured sheds are sure to cater for all your needs.
Huge Range of Shed Styles
Take a glance at our huge range of shed styles and you'll see why we're known for having the biggest and best range of sheds for sale in Perth and the surrounding areas of Western Australia. Along with a great range of sheds and garages for all your agricultural, commercial, residential and industrial needs, Superior Sheds also designs and supplies a broad range of high-quality kit homes, barns and workshops.
Competitive Prices
We pride ourselves on staying as competitive as possible in the shed industry, so we make sure our shed prices are the best in WA. Superior Sheds understands that buying a shed can be a major investment, so we want to make sure that clients are always able to look to us for the best sheds at the best prices in Western Australia.
If you happen to come across shed prices that are more competitive than ours, we'll do our very best to beat or match any genuine quotation that you've been given.
Full Set of Certified Engineering Plans Supplied
When you buy a shed from Western Australia's leading shed supplier, you'll also receive a full set of engineering plans officially certified by an Australian engineer. These plans aren't only essential to having your new shed erected correctly so as to ensure structural stability, as they may also be required by your insurance company.
Please click on the links below to see why Superior Sheds has the largest, high-quality shed range in all of Western Australia, or give us a call today – 1300 881 034.

download our
Savings Catalogue!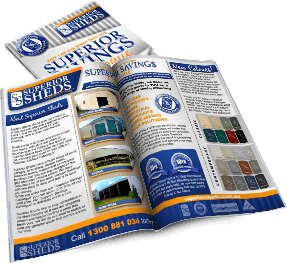 download