Granny Flats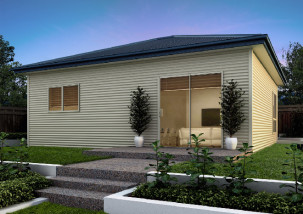 The Hughes
This 2 bedroom design will accommodate from 2 to 4 people with the bathroom strategically placed between both rooms. A large L shape kitchen to accommodate a small dinner party or gathering of close friends.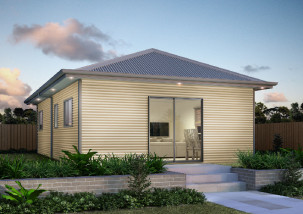 The Deakin
With the option of a hip and gable roof The Deakin boasts 2 bedrooms with robes designed side by side for that little bit of extra room in the living and dining areas.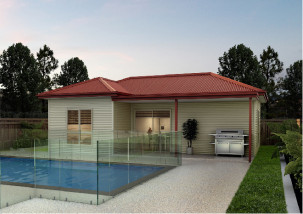 The Bayswater
The Bayswater design comes in both a hip roof and a gable roof design with a generous front porch it makes for the perfect pool house with a view. This one bedroom gem has an ensuite and 2 built in robes fit for royalty. Its another great 53 m2 use of space that sits well within the rules and regulations to sit in your backyard.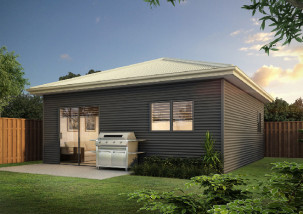 The Barton
Another fantastic 1 bedroom design but this one is a little smaller for those blocks that don't have as much room to move this 49 m2 design takes up a 7m x 7m foot print. The bedroom is way above standard with a built in robe for extra comfort this is a great addition if you want to keep the budget down, so you can maximise the returns.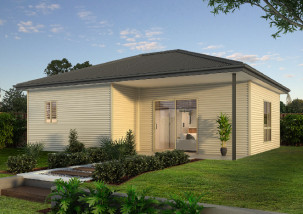 The Ascot
This design boasts the potential to have a front porch and a vernda out the back with a comfortable dining/living area and ensuite with all the fruit, this 1 bedroom design takes up approx 57m2 of backyard living.
At Superior Sheds we also supply the best granny flats kits at the most affordable factory direct prices.
Have you ever thought about getting that extra rental income? Or just need extra space for a home office or even an activities room for the kids? I'm not sure if you're aware but there have been some changes in the zoning laws for some lucky land owners, so ask a member of our team if you would like to see what we can do for you. We make the process simple, and we work with our clients to make sure that they understand the process every step of the way.
We keep our prices down by having our pre-designed kits in our collection ranging form 1 to 2 bedrooms with both gable and hip roofs available to suit your exisiting home. Our kits are all built from Bluescope steel framing so they are built to last, with optional claddings on the outside to satisfy the look you want to achieve.
No need to wait any longer. All you need to do is get in contact with one of our Design Consultants today! If you are unsure whether a granny flat suits your budget, we have you covered there as well. We can put you in contact with one of our finance brokers and they will help you take the next step to achieving your additional investment to your existing home. So decide on a budget, make a selection from one of our popular designs below and the rest is history. You, your family member or your brand new tenant will be in your new granny flat in no time.
download our
Savings Catalogue!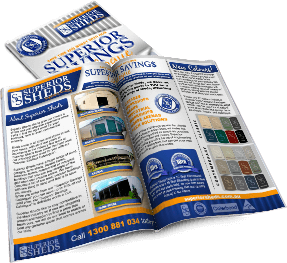 download