Sheds in Perth from Superior Sheds
See why Superior Sheds has the largest, highest quality shed range in all of Western Australia
Custom Sheds Perth: Superior Sheds
Superior Sheds draws upon our more than ten years' industry experience to provide agricultural, commercial, industrial and residential clients with the very best sheds for sale in Western Australia. We've supplied sheds Australia wide and our reputation is your guarantee of quality, cost-effectiveness, and outstanding value for money.
Industry Leading Shed Builders
We're not known as industry leading shed builders without good reason – we supply a huge range of shed styles, our prices are highly competitive, we work with other industry leaders to provide complete services for clients, and we always go above and beyond the call of duty to ensure that all our clients' needs are met at all times.
Whatever your requirements and the budget that you have to work with, our high-quality, Western Australian manufactured sheds are sure to cater for all your needs.
Huge Range of Shed Styles
Take a glance at our huge range of shed styles and you'll see why we're known for having the biggest and best range of sheds for sale in Perth and the surrounding areas of Western Australia. Along with a great range of sheds and garages for all your agricultural, commercial, residential and industrial needs, Superior Sheds also designs and supplies a broad range of high-quality kit homes, barns and workshops.
Competitive Prices
We pride ourselves on staying as competitive as possible in the shed industry, so we make sure our shed prices are the best in WA. Superior Sheds understands that buying a shed can be a major investment, so we want to make sure that clients are always able to look to us for the best sheds at the best prices in Western Australia.
If you happen to come across shed prices that are more competitive than ours, we'll do our very best to beat or match any genuine quotation that you've been given.
Full Set of Certified Engineering Plans Supplied
When you buy a shed from Western Australia's leading shed supplier, you'll also receive a full set of engineering plans officially certified by an Australian engineer. These plans aren't only essential to having your new shed erected correctly so as to ensure structural stability, as they may also be required by your insurance company.
Please click on the links below to see why Superior Sheds has the largest, high-quality shed range in all of Western Australia, or give us a call today – 1300 881 034.
Read more…
Welcome to Superior Sheds, a leading supplier of top quality sheds in Western Australia. With many years of invaluable experience behind us in the design and construction in a large variety of sheds for all kinds of applications, it's no surprise that we've become to go-to shed suppliers for countless customers all over the country.
Looking for top quality sheds in Perth?
If you're looking for the best quality sheds Perth and its surrounding areas has to offer, you've come to the right place. We simplify the process of sourcing robust sheds that are made using high quality materials and crafted with the kind of craftsmanship that ensures longevity and value for money.
We'll listen to your requests, draw up the plans, work with the Bauhaus Design Group who can handle all of your shire approval needs and our contractors can then get to work and bring those design plans to life.
Whether you're looking for a shed company that supplies farm sheds or you're on the hunt for shed builders that will give you a custom design for your home storage or business operations, we've got something that will suit.
The range of products that we offer is vast, and includes:
Garages
We supply single and double car garage sheds to those who might be looking to give their vehicle(s) some protection from the outside elements. They come in a wide range of different shapes and sizes, and are constructed using cold form steel portal frames.
Designed and engineered by an Australian Certified Engineer, all of our garages are fit for their intended purpose and are built to last.
Workshop Sheds
Our workshop sheds are easy to assemble and come in a large selection of shapes and sizes. They're ideal for those that need a bit of extra space for doing business operations or simply for storage purposes.
Our workshop sheds are engineered to Australia quality standards and all steep components come with a 20 year warranty.
Industrial and Commercial Sheds
Our industrial and commercial sheds are available with a turnaround time of 2-3 months.
They're purpose built to withstand the heavy duties that are involved in these industries and because they're made using heavy duty universal beams and structural steel, there is no other company that delivers the standard of industrial sheds that we do.
Farm Sheds
Available at factory direct prices, we're a leading supplier of hay sheds, open front sheds and American barn style sheds which are ideal for storing farm machinery and a wide range of other applications.
They come with a 20 year warranty and come in a kit that's easy to construct, whether you're putting it together yourself or you want one of our professional team to do it for you.
Other areas of outbuildings that we specialise in include arenas, carports and cyclonic sheds.
For more information on any of our products, please call us on 1300 881 034.
download our
Savings Catalogue!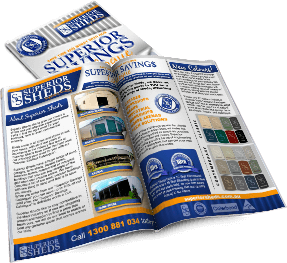 download